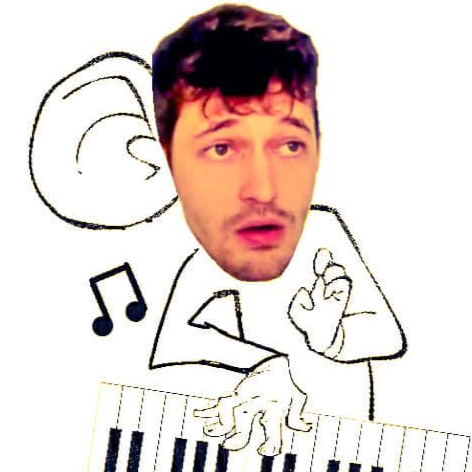 Grange QLD 4051, Dutton Park QLD 4102

Singing Lessons | Guitar Lessons, Keyboard Lessons, Piano Lessons | Artist development, Aural Lessons, Ensemble Coaching, Song Writing Workshops, Theory Lessons, Composition Lessons, Jazz Improvisation Lessons, Music And Movement For Under Fives
Qualifications: 15+ Years Experience and Bachelor of Music 3rd Year
Pricing: Contact us for details
Styles: Pop, RnB, Blues, Jazz, Gospel, Folk, Classical
Suitability: 2+
---
Bio
Zac Lazarevski
15+ years teaching experience
Instruments: Voice, Guitar, Piano, Songwriting
Stevie Wonder, Paul McCartney, Michael Jackson and Jimi Hendrix learned music by ear, through improvised jam sessions, and by singing and songwriting. Zac Lazarevski will teach YOU how THEY learned.
Zac has studied at Australia's most prestigious music schools:
– The Queensland Conservatorium of Music – Jazz Voice
– Sir Zelman Cowen School of Music – Jazz Voice
– The Melbourne Conservatorium of Music – Piano Performance
As an experienced guitarist, singer and pianist, Zac specializes in teaching singer-guitarists, singer-pianists and singer-songwriters. He has taught music for over 10 years to hundreds of students, for thousands of hours. He has many outstanding five-star Google reviews from past students, here are a few:
Zac is a fantastic teacher… He has taught me for nearly 2 years and the improvement of my voice is crazy.
– Chad, singing student.
Zac is an exceptional teacher that goes above and beyond to provide excellent music tuition.
– Cameron, guitar student.
We are so happy with Zac. He is not only a fantastic musician but a fabulous piano teacher
– Mimi, piano student.
Zac can help students to achieve excellent results in the internationally recognised Rock School popular music exams or AMEB Classical exams. Zac really gets to know each student so he can help them achieve their personal music goals, learn fast, and have fun!
Check out Zac's FREE singing lesson video or book a trial lesson now to save your best lesson time!
Still not sure? Follow these links to learn more:
22 verified 5-star Google reviews:
https://g.page/r/CSJhXjZma5vUEAE
Zac's FREE singing lesson on YouTube:
https://bit.ly/FREE-Singing-Lesson-by-Zac
Zac's highly rated book How to Sing Any Song – 14 Secret Vocal Hacks: https://bit.ly/14-secret-vocal-hacks
Watch Zac perform a classical piano piece:
https://bit.ly/piano-performance-by-Zac
My husband and I highly recommend Zac and we are very grateful to have found Zac and that we could learn from him. Zac was very open minded to teach our 3.5 year old boy how to sing and used a variety or methods to generate his interest and keep him engaged during the lesson. It was all about learning through fun and flexibility, lots of games, making up our own songs and improvisation on the spot. My husband and I also took lessons from Zac so we can learn foundational techniques to practise ourselves and to teach our boy. We received a huge amount of support and really valuable information and really enjoyed the lessons. The way Zac thought us was also very intuitive and easy to understand. Zac also went over and beyond to help us compile play lists and send us great references material and notes from the class so we can apply what we have learnt. Zac is definitely a gem!
Anny Wang
Zach has been the first singing teaching I've ever had who I'd not only recommend, but actually sit down and write a Google review about. He's warm, attentive and never rushes a lesson. Most importantly he makes you feel comfortable. I have massive anxiety about singing in front of others and not once did I feel uncomfortable, and I actively looked forward to lessons. Devastated he's leaving Melbourne - the guy has absolutely ruined all other singing teachers for me.
Daniel McIntyre
Zac is a great music teacher who makes Aural Training feel interesting and doable. Through his passion for music and interest in ear training, Zac makes his lessons enjoyable and pressure-free. Whilst new content may feel difficult, Zac's well structured lessons and friendly teaching style makes improvement guaranteed. Lessons are easy to organise around a busy schedule. Highly recommend!
Hannah Hine
Zach has deep understanding of music and great communication skills. He put me at ease from the first time I met him and got me from absolute beginner to playing chords and singing very quickly. Zach & Punpun are very welcoming and easy to deal with. I thoroughly enjoy my lessons with Zach and happily recommend him to anyone.
Rami Grinblat
My 9-year daughter really enjoys learning music lessons from Zac. Zac is a very polite, encouraging and very patient teacher, every kid would love to learn from. Zac is involved in his teaching, doesn't conduct class just for doing the job; which is a quality rarely to be seen nowadays. I would like to thank Zac for all his dedications towards my daughter's learnings.
Poornima Vijay
After two years of practicing guitar with a variety of teachers, I knew something was missing - primarily my ability to hear and learn music by ear. Zac is an exceptional teacher that goes above and beyond to provide excellent music tuition. I am provided with a range of resources, weekly notes and even 4 different practice routines! He helps to make the learning process easy and fun and is the first teacher that has allowed us to record our online zoom lessons so I can go back and revise lesson material with ease. Whatever your instrument or musical background, if you would like a dedicated and supportive teacher and learn in a fun environment, I highly recommend Learn Music By Ear by Zac. Thanks for your ongoing support and enthusiasm Zac!!
Cameron Wynford
Zach is an absolute legend. When my 11 year old said he wanted to get vocal lessons, we found his sample tutorial in YouTube, and we were very intrigued. The try out lesson was a great experience, and we signed up straight away. My kid has been enjoying the lessons immensely, and can't stop trying out the techniques he learnt from Zach. Zach is a is very patient teacher. He listens to the interests of students, their approaches to singing and tailors the lessons accordingly. He provides excellent feedback so as to improve in a very short time. He has a great range of styles of singing and provides an excellent choices of songs to practice. He seems to be a genuinely happy person, and a pleasure to deal with. My kid has shown improvement in his vocal abilities from the very first lesson. This has been one of the best experiences to my kid, and I highly recommend Zach.
Rajesh Pedamale
Right from the first lesson everything seemed to make sense; Zach has a knack for simplifying things, making it seem easy. People can't believe I've only been learning for a few months. His lessons are very fun and informative. I've already developed a passion for the piano and discovered that I can sing with his very helpful training. Whilst his face to face lessons are great, the online lessons are just as good as you can video the lesson to replay it when you want to refer back to something. Would highly recommend!
Tim van Irsel
Yeah what can I say? Zac is just awesome. I've been learning piano and getting vocal lessons the last couple of months and I have fallen back in love with music. I've also be receiving online/ virtual lessons through Zoom since we have been in lockdown in Victoria and I was pleasantly surprised in the quality of lessons. Zac's teaching method is very easy to follow and he is very easy going and friendly in nature. I would highly recommend both face to face or online lessons with Zac.
Ellen Grisdale
Zac is an incredible teacher who goes so far above & beyond. He managed to instil trust & connect with our (too cool for school) 12yo from the very first lesson, uncovering talents we (& he!) never knew he had! Now with classes online, despite home schooling all day master12 is super keen to get on & spend an hour doing music together. We couldn't recommend Zac highly enough.
Kirsty Ristevski
Zac is very patient and really passionate about music. His technique is just great and he makes you feel comfortable. May it be a busy day at work or stressful lockdowns, Zac's sessions are absolutely refreshing. If you are just a passionate musician or do it for hobby or it's your profession - Zac will make sure to suite your needs. He is the first music teacher I met who never rushes to finish off the session. And best part is that he provides recording of your sessions for you to practice. I am enjoying the classes and highly recommend his lessons.
Swarnadip Roy
Zac is a fantastic teacher. He really helped me to unlock my voice. He has taught me for nearly 2 yrs and the improvement of my voice is crazy. Starting from a total beginner I never thought I would be able sing the way Zac has taught me how. Lessons are fun, educational, and always comfortable, as Zac will go at your pace with reasonable push to improve. Unfortunately, I've had to move interstate so I cannot continue my lessons, but I highly recommend anyone to start their journey at Learn Music by Ear.
Chad Nunn
Very friendly teacher, able to cater to my needs as a student allowing me to learn in the most enjoyable and efficient manner! Definitely recommend!
Nathan Nice
I learned more in my first lesson with Zac than I did from months with other vocal coaches. Zac is an amazing teacher and you can tell he has spent a lot of time perfecting his teaching methods. He works with your natural voice and brings it out really fast by showing you all the different vocal sound possibilities. Instead of just giving standard vocal exercises, he teaches you exactly what you need to sound better. I have taken many lessons from many teachers and Zac is the best music teacher I have ever come across.
Michael Diamond
I have been learning from Zach for over 6 months now, and I have experienced enormous growth in my singing ability and music knowledge. Always look forward to the lessons and will enjoy learning from Zach for a long time to come. Highly recommended.
Chong Lee
Zac is a patient, attentive teacher that gives you confidence to learn music by ear. His way of explaining things makes music theory come to life! I find his style of teaching is suitable for all ages and musical background. I thoroughly enjoy his lessons and am thankful not only to help me improve my musical abilities but help me love learning music again 💖
Xiyi Wang
We are so happy with Zac. He is not only a fantastic musician but a fabulous piano teacher. He is able to inspire and develop my 8 year old's interest. The lessons are structured around what the child likes and is good at. At the same time, focusing on learning piano essentials, listen by ear and improvising, plus the added bonus of singing. Every class is so delightful to watch. Brilliant teacher Zac is.
Mimi Song
Zac is a really great teacher with so much passion for music. He meets you at your level and applies fun, tangible techniques where you can see concrete progress. Thanks Zac for helping me find more confidence in my singing!!
Tara Sakamoto
Zac is not only a great musician himself, but an excellent and talented teacher. He has a great way of breaking things down to make the complex simple - and he has the ability to translate this to people of all different levels of experience. My pitch and rhythm have improved considerably since our lessons. I would highly recommend Zac's classes!
Em J